Green Tahitian studs from Hawaii, with two bracelets and a rope I knotted with circle Tahitians from JNBGems. The lighting has been so dark around here when I have had a chance to take pics. I took the pearl pics outside in rather dark natural light.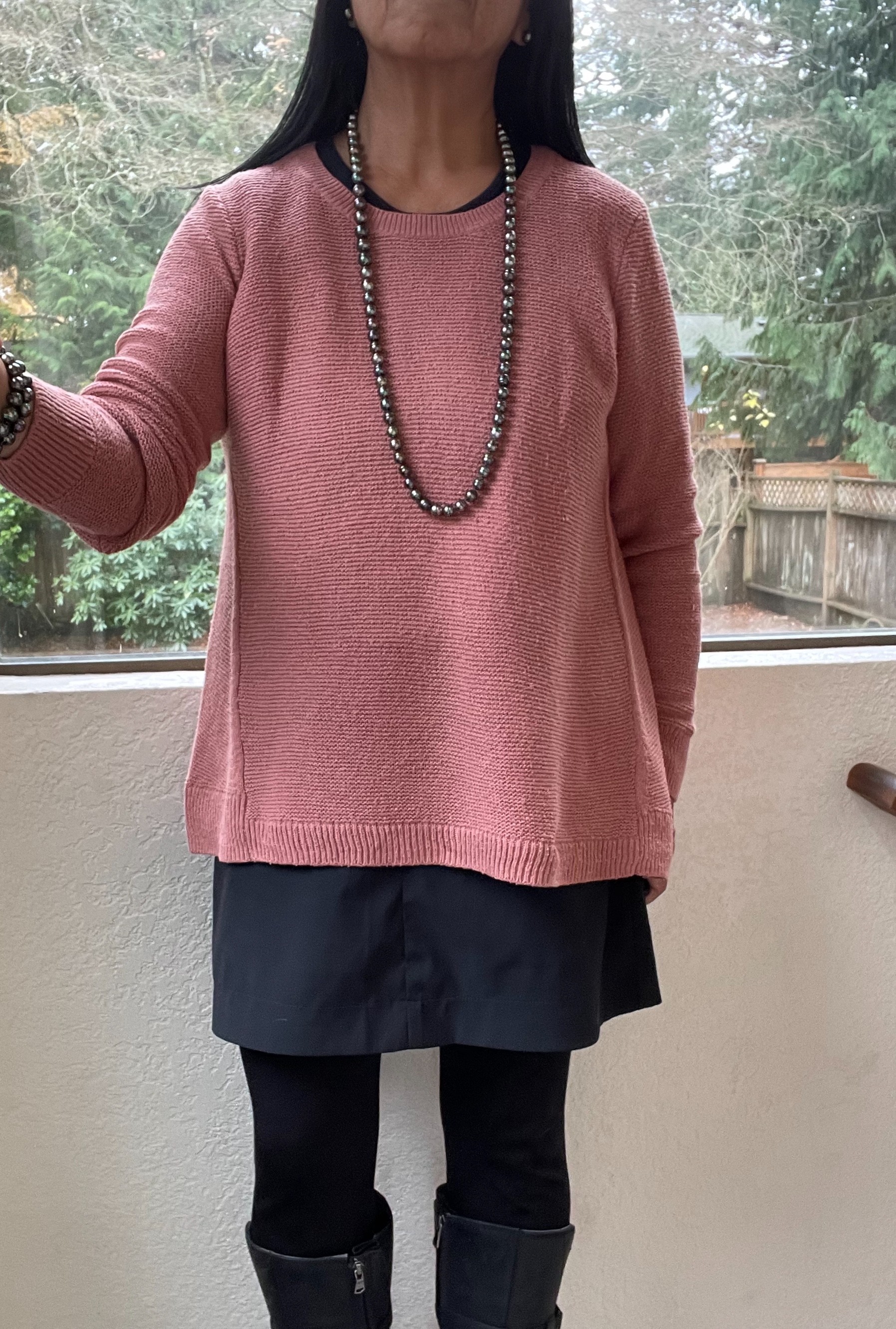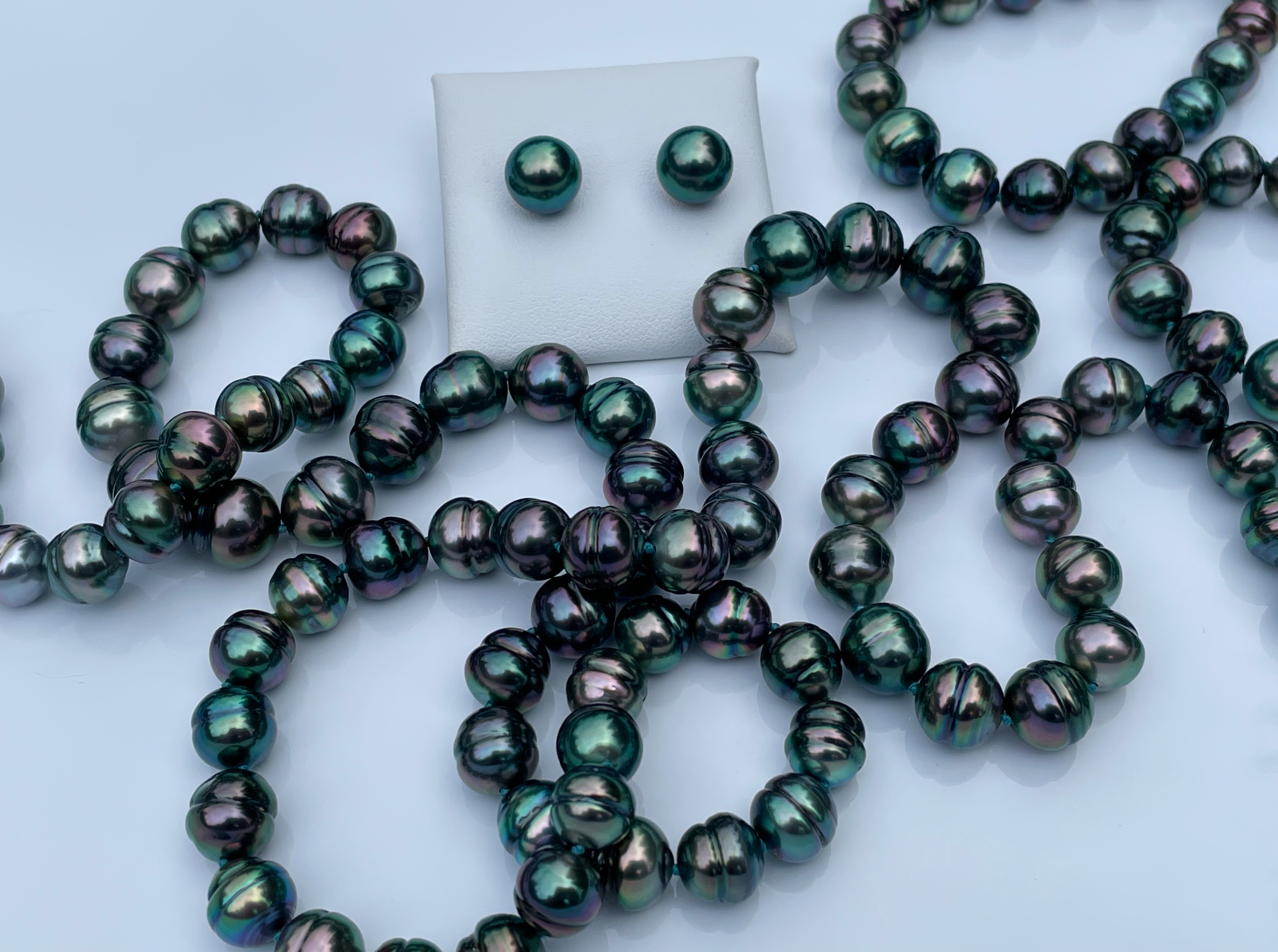 jeg, I also think your pastel FWP are lovely, but your collection of Tahitians and Kasumi and SoC and GSS and Fijis are all just so colorful and lustrous and exciting
Case in point, those JNB Ts and studs are fantastic!
It was overcast this morning so I wore a Kamoka ring and JNB pendant that otherwise look very dark in sunny conditions; when it's low light the colors are much more interesting.
Photo by : SurfnSci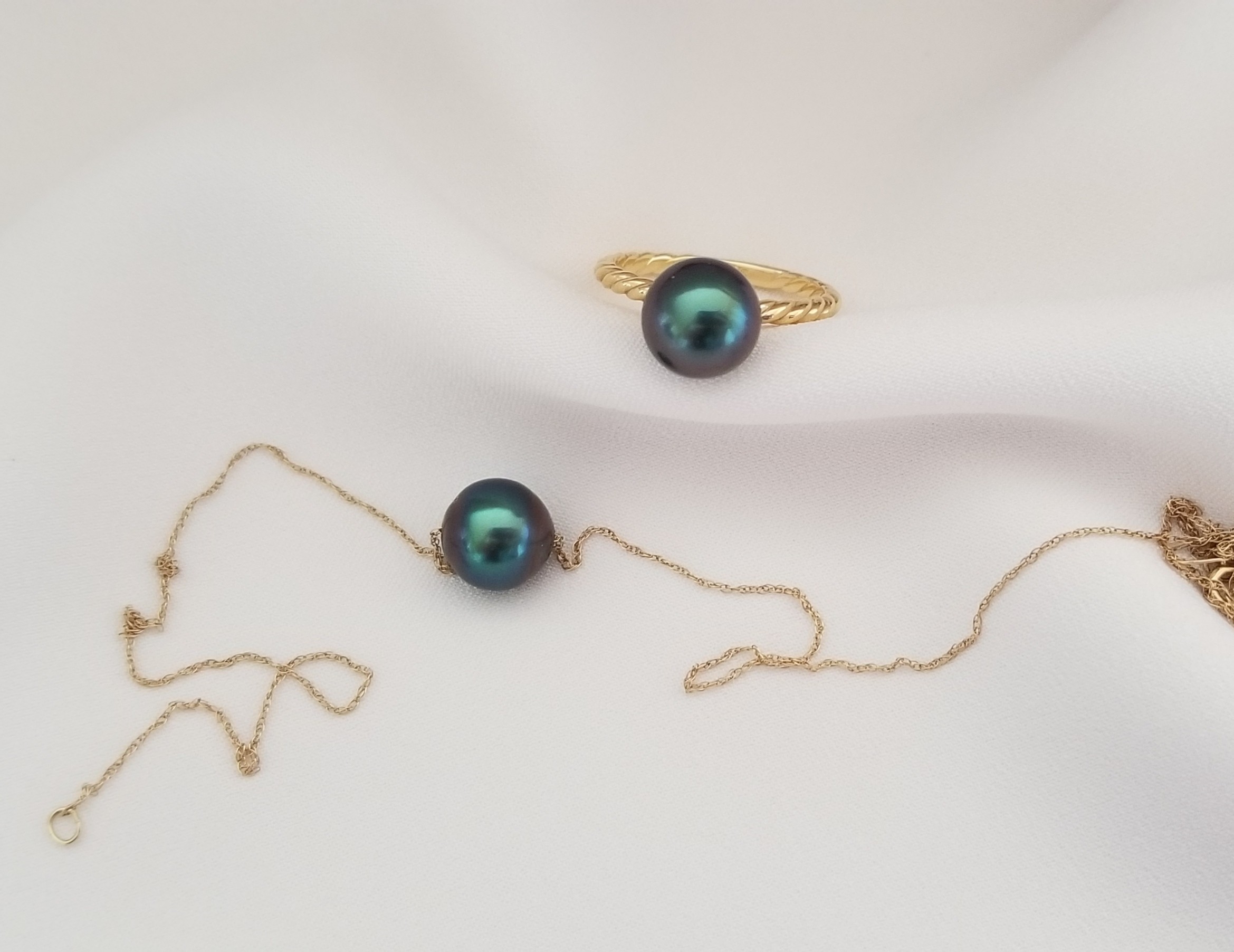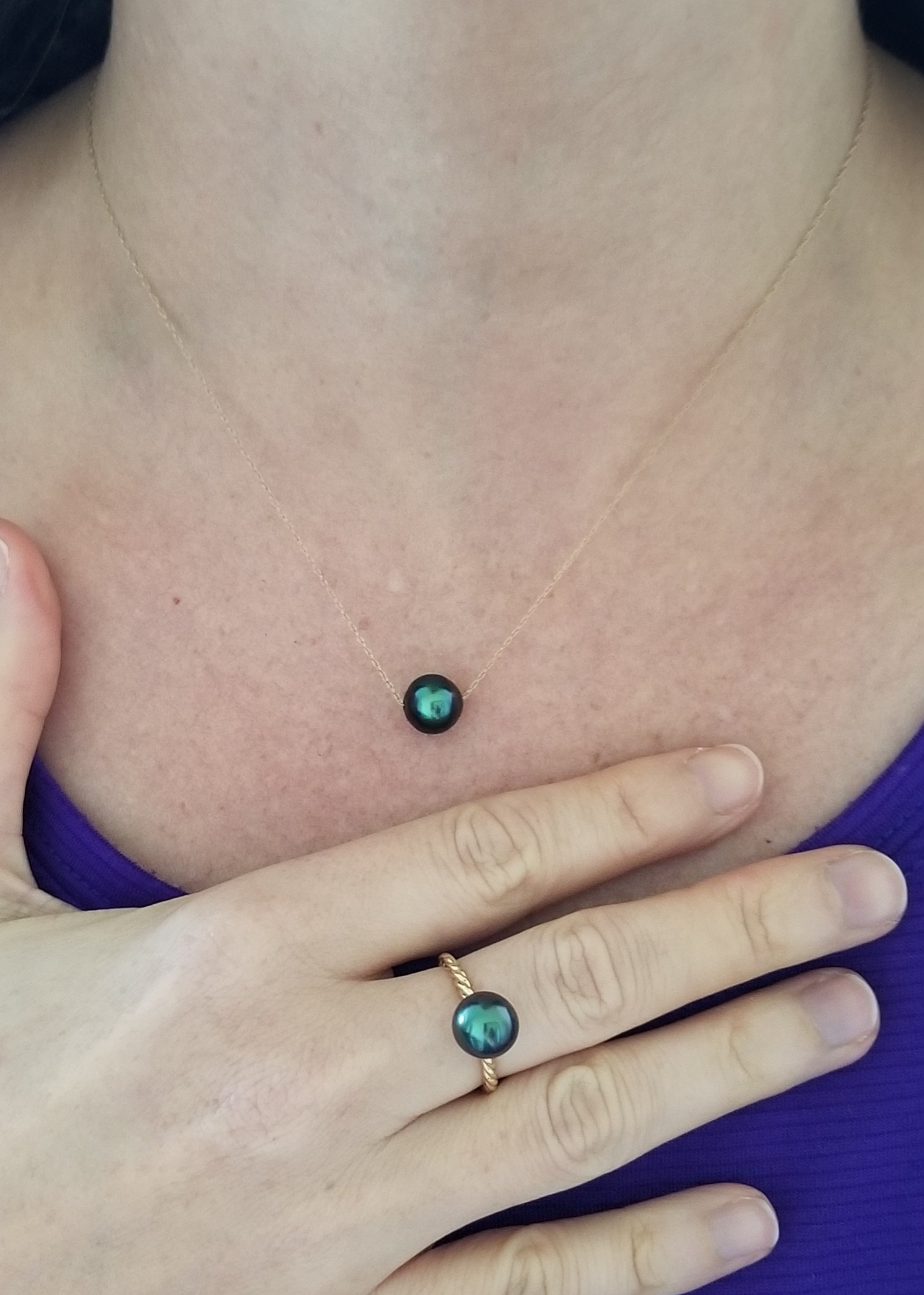 jeg those dark circled tahitians are gorgeous. I would probably choose tahitians as well, but then I would miss all the other colors. One might think that I would choose the darker colorful pearls of any kind, and I do love them. However the ones that really captures my heart is those pearls that have a color that is between the "normal" colors. Like teal, or purple blue or any color really that is difficult to describe. Sometimes shifting colors depending on the light, those colors are of course great when I was I do an ombre. On my last strand,
Sunrise clouds with only freshwater pearls, there were these two pearls that had the most beautiful color. Lavender probably but shifting with mostly blue and a bit green. A whole strand like that would be glorious. Not like the time I bought that very purply beadnucleated freshwater pearl strand that even though pretty was too much and I now use the pearls when I need a roundish purple pearl in my strands. and SurfnSci, such gorgeous pearls. The colors are amazing. I agree sunlight is hard on the colors.
eolian pearls wrote :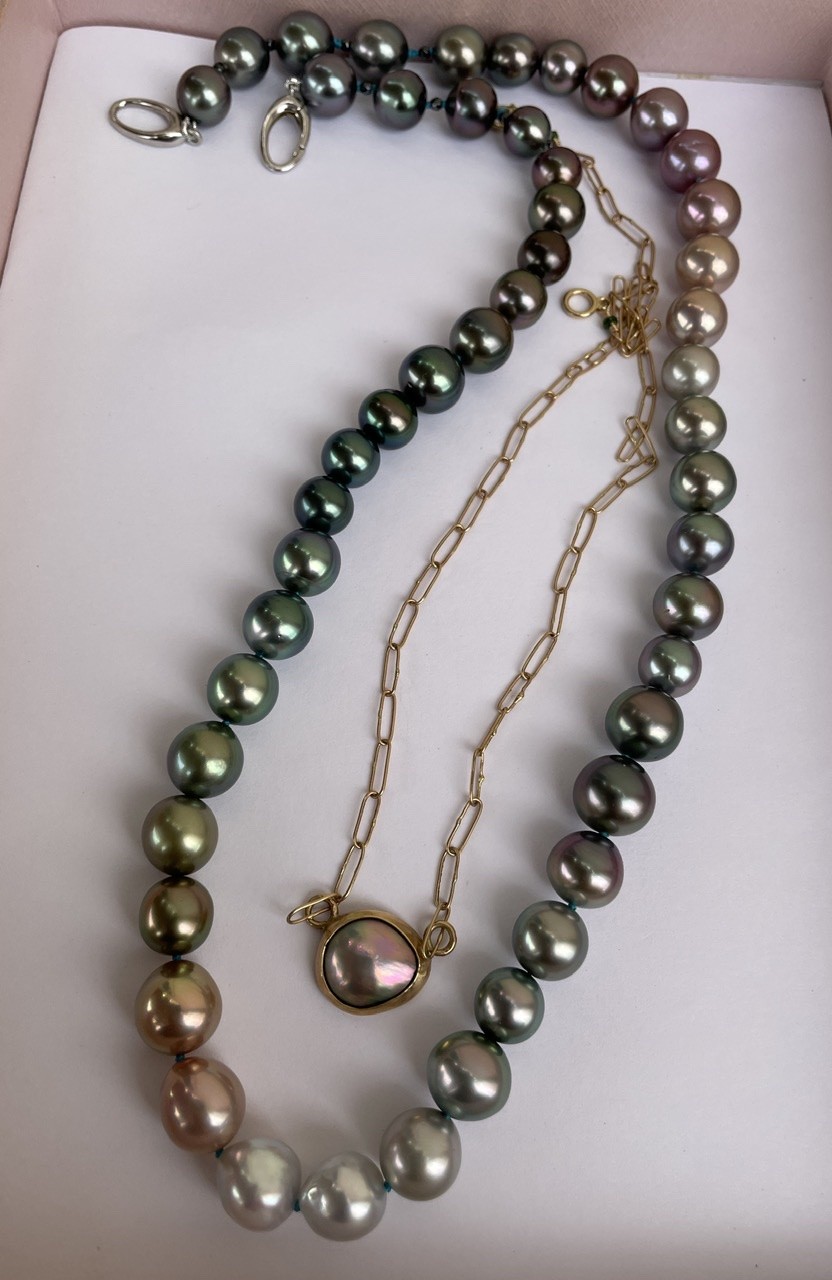 Thank you jeg! The Bliss strand is definitely my new favorite too! I restrung it (without the two circled pearls because I am obsessive like that) and when I put it together with my other favorite…the SoC from OceansCove I fell in love with the two even harder!!!! Too bad it is just too cold here now, they look wonderful against the skin too…
Love your Ts but I adore your freshies too Jeg! My one true love are also tahitians but colored akoyas and dreamy freshwaters are up there near the top. I mean there are no pearls that I dont love…Playing with the pearls I dicovered that even some colors that I was not too excited about can look amazing next to another color that just draws them out…And well there are days for softer pearls and days for dramatic full on colors…There is so much choice with pearls! Nature is amazing
Surfnsci your beauties are exactly the dark pearls I love! There is a depth to their color that is just enchanting…magical.